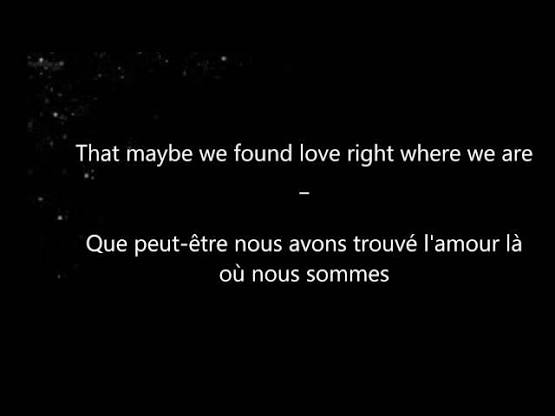 Ed Sheeran - Thinking Out Loud (Lyrics & Traduction Francaise)
https://www.youtube.com/watch?v=rJoN5catKpc
Did Ed Sheeran learn to dance for Thinking Out Loud?
While Brittany only made it to the top 20 of SYTYCD Season 10, she's obviously come out a winner — not just sharing the spotlight in "Thinking Out Loud," but also getting the opportunity to dance with Ed five hours a day,
secretly training him for the video while she was on tour with him earlier this year.
Who is dancing with Ed in Thinking Out Loud?
Introducing
Brittany Cherry
(and boy that's an American dancer name if ever we heard one). Californian Brittany, who is 20 years old, appeared on Season 10 of American TV dance show 'So You Think You Can Dance'.
Is Thinking Out Loud possible?
Thinking out loud is a normal feature of healthy human cognitive function
. However, if you are having a difficult time controlling the things that you say, you should seek the help of a mental health professional. This inability to control what you are saying may be a sign of a more complicated mental health problem.
How long did it take Ed Sheeran to learn the dance for Thinking Out Loud?
According to MTV, he spent
five hours a day
training for the video.
Thinking Out Loud ; 4:41 · anglais · Pop · CD single, téléchargement légal, radio · Ed Sheeran, Amy Wadge ...
Ed Sheeran - Thinking Out Loud Lyrics & Traduction. La traduction de Thinking Out Loud de Ed Sheeran est disponible en bas de page juste après les paroles ...
Paroles de Thinking Out Loud. Ed Sheeran · When your legs don't work like they used to before · Darlin' I will be lovin' you · People fall in love in mysterious ...
Ed Sheeran – Thinking Out Loud ... Thinking Out Loud est une chanson d'Ed Sheeran sortie le 24 septembre 2014, troisième single de l'album X, sorti en 2014.
Thinking Out Loud and many other song lyrics of Ed Sheeran translated into french can be found in Translate Lyrics! What does Thinking Out Loud mean in ...